Then the water stirs again, troubled
by the angel within, the homeward angel
fitful, restless, a whirling halo of bright sleep.
—from "Summer Night"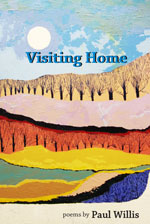 Paul J. Willis's first full collection of poems was published by Pecan Grove Press in 2008. Visiting Home is soaked through with the Cascades, the Sierra Nevada, and the central coast of California. With the passing of publisher and editor H. Palmer Hall in 2013, Pecan Grove Press has now been dissolved and this title is officially out of print. Copies are still available through Amazon and from the author.
Reviews & Responses
His work clearly echoes the nature-focused poetry of Robinson Jeffers, John Haines, William Stafford, and Gary Snyder, although his voice and presence are more modest, the situations he renders usually quieter.
As someone who has spent a good deal of time in the company of ancient trees and mountain ranges, Willis writes poetry from that place of tension between the physical, touchable earth and the unknown, the mystery it pushes us toward.
With his clear and musical style, he asks us to consider how nature brings us closer to our spiritual home in God—and so to peace from our worldly worries.