The angel said there would be no end
to his kingdom. So for three hundred days
I carried rivers and cedars and mountains.
Stars spilled in my belly when he turned.
—from "Mary at the Nativity," by Tania Runyan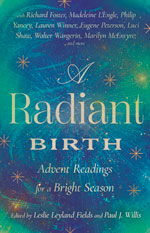 This is an anthology of literary readings by past and present members of the Chrysostom Society in celebration of Advent. Leslie Leyland Fields and Paul J. Willis have gathered a rich galaxy of poems, stories, essays, and even a play for the Christmas season. Contributors include Richard Foster, Madeleine L'Engle, Marilyn McEntyre, Eugene Peterson, Luci Shaw, Walter Wangerin, Lauren Winner, and Philip Yancey.
Buy at Amazon Buy at Publisher

Reviews & Responses
Every legendary voice in this remarkable collection dares take us closer to the brilliant star, the bleat of sheep, the crackle of straw, and even the blood of birthing to behold with anticipation and awe the remarkable arrival of the saving Jesus. In poems and memories told with astounding personal candor, the Chrysostom Society's communal exploration of the most holy of births is a brave, amazing gift.
—Patricia Raybon, author of the Annalee Spain Mystery series and I Told the Mountain to Move
A Radiant Birth is a true gift. Poetry and prose flow mingled down into the heart and soul. Lovingly assembled by two wise and care-filled writers, it warmly welcomes readers into the mystery and wonder of Advent. This is a book that you will cherish and read year after year.
—J. Brent Bill, author of Holy Silence: The Gift of Quaker Spirituality and Amity: Stories from the Heartland
Who better to lead us to the mystery of Word become flesh than writers? Who better to help us sing songs of yearning and joy than poets? This wonderful collection from some of my favorite writers and poets is a space for the imagination to contemplate the incomprehensible gift of the incarnation during the journey through Advent and Christmastide.
—James K.A. Smith, editor-in-chief of Image journal