There were many verses to the song about the good and faithful lovers, and the three of them went on and on, repeating and repeating the stanzas till Erica was hardly conscious of any plan or felt design in what they did. They were just singing. They were just playing. And they were inside a living moment of palpable beauty where popes and priests and Protestants and princes and prisons didn't matter. They didn't matter the least little bit in the realm of music the three were creating.
—from All in a Garden Green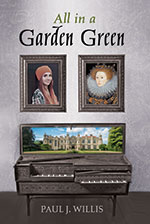 In this young adult novel, thirteen-year-old Erica Pickins walks through a door on a family visit to Hengrave Hall in England and finds herself mistaken for the elder daughter of the house in the year 1578. Queen Elizabeth I is about to arrive on a special visit, and, because of her musical talent, Erica becomes the most important part of the desperate attempts by the Catholic family to entertain the Protestant Queen.
Buy at Amazon Buy at Publisher Read Interview

Reviews & Responses
Fling together a girl about to leave childhood behind, an ancient house filled with chapels and towers and chambers and hidden staircases, lutes and virginals, Queen Elizabeth I, a wise and knowing mentor, and two huge St. Bernards—and then mix them with the slipperiness of time, and you have this rollicking novel that speeds its way to its nick-of-time ending. This is a playful book, spanning four centuries of a changing language, and undergirded by the lovely certainty that what lies ahead will always be better.
—Gary Schmidt, Newbery Honor recipient and National Book Award finalist
In an old English manor house a young girl enters into history in a way that entices readers to suspend disbelief and take delight in sharing her journey across time. Skillfully drawing upon his own semester with students in England and upon records of a royal visit to Hengrave Hall, Paul Willis has woven a tale that deserves to be read aloud and enjoyed by adults and children old enough to wonder about time past. Ancient customs, young romance, a courtyard, a moat, a mysterious nun, and two St. Bernards are only a few of the features that give this story its singular charm.
One of the pleasures of the young is dress-up, imagined time-travel, and participation in events more significant than life has afforded them thus far. All of these elements abound in All in a Garden Green. In a castle-like estate house in England, during a visit by Queen Elizabeth I, the novel's protagonists find themselves in unasked-for adventures that both define and stretch them. And readers will greatly enjoy the ride.
All in a Garden Green is a journey both real and fantastic. During her family's stay at Hengrave Hall, Erica discovers a portal to England's late sixteenth century. Abruptly, history explodes into fascinating and well-researched detail—altered language, antiquated musical instruments, secret rooms and hidden staircases, even a visit by Queen Elizabeth I. Erica's piano lessons were never like this! The story gives young readers a fresh take on resonances between past and present. Highly recommended.