Just because of your golden hair,
the letters in cursive above the chalkboard
sang on their musical score.
—from "Thomas Jefferson Elementary"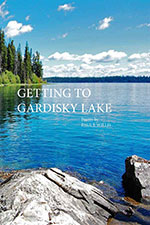 Getting to Gardisky Lake switchbacks from roadside maples to backcountry sequoia groves, from the lost curves of a high school track to the shining calves of Olympic hopefuls, from grade school crushes to married affection, from Jefferson's slaves to Sherman's march, from dumpster diving to shopping the mall. These poems contain American multitudes, some whispering in sincerity and others bragging with thumbs hooked in their belt loops. In this rich collection, Paul J. Willis invites you in and ushers you out to meet your neighbors and yourself.
Buy at Amazon Buy at Publisher

Reviews & Responses
Even for somebody who has known and admired Paul Willis's work for many years (this reader, for instance), the poems in Getting to Gardisky Lake are remarkable in their amplitude and reach. Here, ranging between parking lots and high meadows, vaulting decades, naming names, are all the pleasures of Willis's nimble wit, fresh metaphors, and weather eye for the sacred in the commonplace. Without a whiff of didacticism, these satisfying poems offer—in fact are—ways and means to "balance upon what disappears." They invite us, finally, to step "off the map, into the world."
Paul Willis's fine poems have been pulling us in, unsettling our everyday perceptions, and plying us with hope for thirty years. The creative regions for which he's best known—family poems, campus poems, wilderness poems, poems of social responsibility—they're all here. What sets this new collection apart, though, is the laughter: a gracious kind of laughter that gentles the sharp edge of serious propositions. One never doubts the quiet love that pervades the collection: love for neighbors, love for work, and love for the delicate beauties of a perishable world. Getting to Gardisky Lake is the best new book of poems I've read this year.
Over the years I've come to know Paul Willis's work fairly well. And Getting to Gardisky Lake hits me the hardest: it is at once lucid and careful but also vulnerable (healingly so) and wryly shameless (and healingly so). I find myself rereading the poems for the nourishment they so lightly hold. They nimbly and movingly conjure up the Holy Mess that is our world. I am grateful for the book, for all its consolations and wisdoms and delights.
—Teddy Macker, Author, This World