The poem darted out from the rock and took
the worm, the hook, the reel.
I felt it quivering in my creel—
then let it go, into this wild and babbling book.
—from "Free Verse"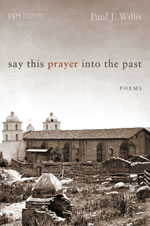 Paul J. Willis's third full collection of poems was published by Cascade Books, an imprint of Wipf & Stock, in fall 2013. Coming after the loss of his family's home to a wildfire—an increasingly common experience in the American West—this collection is perhaps his most elegiac. "Blessed are those who mourn," says Jesus, "for they shall be comforted."
The cover photograph is of the Santa Barbara Mission and was taken by Carleton Watkins in 1876. Watkins is best known as one of the earliest photographers of Yosemite Valley. Click here to view the original photograph.
Buy at Amazon Buy at Publisher

Reviews & Responses
Here we do not travel through time, as one might suppose, but hold it in abeyance, that prayer might reach each generational corner and poetry fulfill its call.
—Sofia M. Starnes, Virginia Poet Laureate
With reverence and wit, with delightful homage to the musical properties of language, Paul Willis gives us these poems of his family, his classroom, the wilderness terrains he loves. Lucky us. Whatever Willis touches on these pages quickens under his wry, wise gaze, becomes vividly "green with life." In both open and fixed forms, he follows his own dictate "… to make sure of the meanings / of words, then to invest them with holiness.…" His poems are a most welcome and needed gift—a balm he offers to "this beautiful, suffering world."
A Paul Willis poem is a balm for the tired heart: the breath of a sleeping child, an FDNY hero climbing stairs, a walk through the Glacier Peak Wilderness with the healing "sound of rivers in our ears." With both reverence and wit, Willis finds the glint (and sometimes explosion) of joy in all of his travels, from a classroom window to Sawtooth Ridge. Say This Prayer into the Past: your field guide to life and beauty.
—Tania Runyan, Editor, Every Day Poems
Judging by the poems in "Antediluvian Baseball," the final section of his astonishing new collection, one suspects Paul Willis could write brilliantly about anything—in heaven, or here on our "beautiful, suffering world." Above all, he is a poet with a keen eye and ear for the wonders of Nature's "understory," the layer of growth beneath a forest's canopy where "There is / so much you will never see." Fear not, reader: Paul Willis will show it to you.