No one knows where this trail goes.
No sign at the trailhead lists the miles,
the destinations. No map is marked
with a dotted line. And yet the path
appears at your feet, disappears
between two trees, an invisible door.
—from "Somewhere to Follow"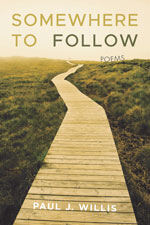 From California coastal redwoods to giant sequoias in the Sierra, from practical jokes of adolescence to unexpected epiphanies marking an academic career, the many poems in Somewhere to Follow range through the life of a poet on the lookout for what comes next.
Buy at Amazon Buy at Publisher Q&A with Paul

Reviews & Responses
At times wistful, occasionally heartbreaking, often humorous, and always tender, Paul Willis's Somewhere to Follow is a love letter to the natural world with plenty of affectionate notes to humankind jotted in the margins. Reading these poems during a personally busy era has reminded me that while there's more to life than my daily routines and surroundings, everything I need can be found in those wondrous places. As Willis writes, "no one knows where this trail goes," but his voice is the someone to follow.
In Paul Willis's new book there is much to admire and enjoy. Not least among these qualities is a specific attention to, and love of, the natural world—something for which his poems are well-known, a "tenderness toward existence," as Kinnell had it. Also the virtues of clarity and concision, and especially a deep humanity and compassion for others, perfectly balanced by a subtle wit and fine sense of humor—a complete and resonant vision.
I've admired the work of Paul Willis for many years, yet this collection arrives as a revelation—the span of these poems, their lifelong reach, quiet tenderness, and, yes, wisdom. Willis has his eye on the world, an eye that refuses to objectify, but stands in relation to presence on earth, his own, and multitudinous life.