Little leaves like ochre moths,
neatly rising on the stem,
you will have one chance to fly,
separated, then amen.
—from "Autumn Ginkgo"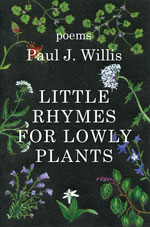 A botanical, biblical, somewhat cynical, and otherwise grossly sentimental stew of verse in rhyme and in meter.
Buy at Amazon Buy at Publisher

Reviews & Responses
Paul Willis's new title suggests a collection of poems devoted to flora, and indeed it begins along those lines, with a hint of travelogue, as each delicately, often humorously, rendered specimen comes complete with location. As poetry is wont to do, however, the collection opens out into larger matters: friendship, memory, time's tolls and gifts. The poems in Little Rhymes for Lowly Plants are modest, whimsical, and sly—sly in that they will please your mind, and then, just when your guard is down, ravish your heart.
Paul Willis's many books of poems have featured exact and loving depictions and reflections of nature, observed in a life spent outdoors as much as a college teaching position would allow. That same world, generally in the Pacific Northwest, is the area covered in this book. So what keeps him from repeating himself? In earlier works, he never stopped hiking to new places, sometimes with new people, and always noticing new things. The difference here is in the new forms the poems take. His earlier non-metrical, rarely rhyming style is replaced by its opposites and, as the title indicates, by shorter, tighter, lighter, and more teasing tones, like nursery or playground rhymes. These amount to a cheery and refreshing new departure in his nature writing: "experimental" in a poetic world where that means a return to forms that Robert Herrick (cited here) would recognize and applaud as "poetic."
Poet Paul J. Willis (which, as he points out, rhymes with amaryllis) is also a lifelong naturalist. In Little Rhymes for Lowly Plants, he presents the reader with a bon mot bouquet of epigrams and lyric poems that seem to have blossomed along the trails. Channeling memorable verses from centuries past—Shakespeare, Robert Herrick, and Robert Louis Stevenson are summoned—these "little rhymes" are, indeed, mostly shorter poems, charming in their simplicity like the wildflowers that inspired them. The collection also includes poems inspired by the Bible and his own Christian faith. In the poem "Flight Plan," he writes, "I was not made for stratospheres, / I was not made with wings. / I'll keep the beat with my two feet / where jolly robin sings." If your own two feet lead you to red columbine (Aquilegia formosa) or Menzies' larkspur (Delphinium menziesii), you would be doubly blessed to have one of these poems by at the ready. We are all lowly plants, after all. Like Caltha leptosepala, these poems are "never old. / Just merry, / and gold."