Is it the way you laugh over breakfast,
that generous gift, your laughter?
—from "The Good Portion"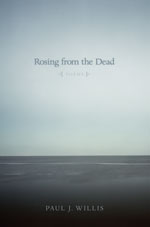 Published by WordFarm in 2009, Paul J. Willis's second full collection of poems is about resurrection—the times it seems possible, and the times it does not. Each poem investigates the emergence or denial of hope that we may feel in each small turn of our lives. Along the way, the poems visit forgotten corners of family history, college classrooms, and mountain meadows. Once in a while, a dog or two come sniffing along.
Buy at Amazon Buy at Publisher

Reviews & Responses
Clear, forceful, and vigorous. I enjoyed it all.
Willis's poems are quiet but expansive, and no matter the topic, they contain a sacred sense of awe.
We journey with Willis, our expert guide, from one California wilderness to the next—like Wordsworth through his Lake District—with their stunning vistas, vegetation, rock formations, and rivers. Through his words, we glimpse the Sequoia National Park, John Muir Wilderness, Death Valley National Park, San Rafael Wilderness, Mojave Desert, Kings Canyon National Park, Joshua Tree National Park, and other regions with their singular wonders. We quickly realize that Willis does not simply write about these places; he has inhabited them, climbed them, breathed their atmospheres. He could not describe them so sharply otherwise.
Willis delights in language without allowing it to become an end in itself.… Whatever the subject, [his] poems use a language we know to provide an entry into a world we recognize. Once we are in that world, his best poems use those very words and details, familiar as they are, to invite us further in toward places we may not know yet but are anxious to visit.
—Eric Potter, The Quad
These poems draw us into a deeper experience of reality to help us discover what gives us life in relation to name, family, Christ, work, and wilderness.… [But] what dazzles me about Paul Willis's poetry is not so much the light (though there is plenty of light and wisdom to be had here), but the sheer muscular music of his verse.
The poems of Rosing from the Dead serve as reminders of the fullness of life, and stir in us a gratitude not only for life, but for all the twists and turns therein that remind us that we are part of a story of mystery that is much larger than we are.
Without ever striking a pose, with no self-dramatized conviction that it is his appointed task to deliver the unpalatable truth about How It Is, Willis tells us again and again: remember you must die.