The elderly cedars looking on
are most certainly in on it. So too
the vine maple, coming into light green leaf.
It has something to do with snow up high,
we down low, drinking it in.
—from "Thunder Creek"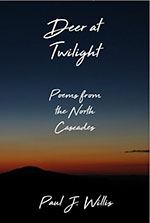 For a fall and a spring, Paul Willis got to serve as an artist-in-residence in North Cascades National Park in Washington State. This collection of poems about the local flora and fauna is what came about. From Douglas squirrels to Douglas firs, from fairy slippers to cinnamon bears, follow his trail through the mountains and meadows of an American alpine treasure. Deer at Twilight will bring you into quiet places and leave you standing, open to the evening air, long after its pages are closed.
Buy at Amazon Buy at Publisher

Reviews & Responses
Full of longing and reality, these poems are observant, hopeful, footsore, amused. Paul Willis has written a book of unhurried walking—of seeing, self-forgetfulness, and entering into. How rich with personality the world he encounters! To read a handful or two of the smaller short-take poems is to remember how to be in the world as a companion being, how to laugh and wonder and be moved. In the larger poems, the ache of seeing is the ache of everything, a vastness hovering just beyond words that his words somehow touch. The reader might be surprised at feeling suddenly tender toward this teetering world. Even, amidst the trails and travails, rejoicing.
These wonderful poems celebrate the mountains, rivers, and inhabitants of the North Cascades. From the alpine meadows of Desolation Peak to the secluded glades of Thunder Creek and the cedar groves of Big Beaver Valley, Paul Willis shares moments of reflection and wonder. I especially appreciate the attention given to the plant world—encounters with favorite mountain wildflowers come to life in delightful, intimate conversations. A great addition to the wandering mountain-poet literature of the North Cascades, this book belongs in your daypack
when you arrive at the trailhead.
Paul Willis, like Muir or Ryokan, follows North Cascades paths into pathlessness with the aim of becoming so lost he begins to see what we can't when we know where we are. A salmon fin hidden in the trillium's petal. Devil's club standing like the unctuous greeter blocking the door into your church. A one-leggèd fellow hiker cheerfully headed, he says, "for Desolation." Flowers working their way up tree-trunks so as "to put down roots in the sky." The elegant fungi, Witch's Hair, draped from the trees, "but where are all the bald witches?" The path unrolling illimitably "in answer to our infinite longing," every switchback offering "a return to a yet more excellent way."
As we all get pounded by our weapons of mass distraction, how cooling and grounding and healing it is to read Paul Willis's Deer at Twilight. Comely, quirky, amiable, teasing, earthbound, and quietly erotic, these poems glint with the fidelity of particularity. A tricksy field guide, a bestiary without the moralizing, Deer at Twilight is salve for the spirit.