In the mornings, he came to the surface
and saw the greenness of this world,
the cool depths of his own eyes.
—from "A Fish Story"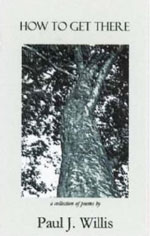 Published in 2004 by Finishing Line Press, How to Get There is the only one of Paul Willis's five chapbooks that remains commercially available.
Buy at Amazon Buy at Publisher

Reviews & Responses
Many of the poems in Paul Willis's How to Get There are quite literally like letters: they address the reader directly, and are newsy narratives we are invited into so that we may discover that we are reading stories about ourselves as well. We might apply the term "accessible" to Willis's work, except that these simple narratives are often so subtle that we cannot too carefully, too closely analyze exactly what is going on in them. Rather, we must, as William Stafford claimed was true of poems, see them out of the corners of our eyes, like faint stars. Look at them directly, and they disappear.