They remained on their backs and watched the sky and found their breath and felt the turf all cool beneath their shoulders. It was a good place, a quiet place, a place to hear the breeze and touch the sun, to watch lupine bloom and lupine wither, to taste the snow and sniff the rain, and having done all this, to listen to the meadow streams fall down into the forest. It was their place, and not their place, which is why they could stay, and why they had to leave.
—from The Alpine Tales, Book 1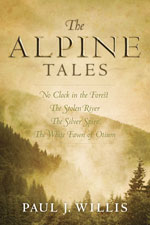 This quartet of eco-fantasy novels was published by WordFarm in 2010. Together they tell a single story. Set in a mythic version of the Cascades of the Pacific Northwest, the tales combine the real and the fantastic through every season of the mountain year. The first two tales, No Clock in the Forest and The Stolen River, have been published separately by Crossway Books and then Avon Books in earlier versions. The last two tales, The Silver Spire and The White Fawn of Otium, are published in The Alpine Tales for the first time.
Buy at Amazon Buy at Publisher

Reviews & Responses
[A] 600-page "eco-fantasy" that plunges from reality into something weird and wonderful and back again, always threaded with a sensitivity to the workings of grace.
Reading the book, one feels both fascination and dread for the dangerous, not entirely knowable wilderness we traverse. One also feels that whatever threatens that wilderness trivializes the complexity and significance of human choices in the moral world. As in the fiction of Tolkien and Lewis, Ursula Le Guin, Susan Cooper, Lloyd Alexander, and other modern/contemporary fantasy writers, the forces of good and the forces of destruction remain beyond explanation in The Alpine Tales.
One of many delights of the tales is the echo throughout of classic literature.… Besides verse Willis composed for the story, there are lines by others quoted outright or woven into the texture of the narrative. The sheer variety of the allusions, together with the unusual setting, actions, and lyrical prose, only confirm the originality of these tales. As T. S. Eliot might say, the tradition is here and Willis has assimilated and altered it. I know of no other fantasy richer in its language than these.
All four Tales exalt the land, lingering at every turn on descriptions of the forest, the mountains, the glaciers, the lakes. The villains tend to be those who misuse, abuse, or despoil the natural resources around them, through either ignorance or malice; the heroes are those who are at one with, and care for and enjoy, the natural world. Willis advances in every Tale the idea that our pleasure in the world around us, and our willing and skillful stewardship of it, is the true and highest calling we have toward the abundance of riches we've been given.