Sure he can sling that ball
downfield like an arrow,
but he keeps calling the same play
in the huddle.
—from "This Is What Happens When You Let Hamlet Play Quarterback," by Jack Conway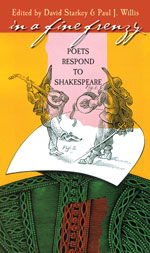 This is an anthology of contemporary American poems in response to Shakespeare, published by the University of Iowa Press in 2005. David Starkey, who directs the creative writing program at Santa Barbara City College, brought Paul Willis on as his co-editor because of his background in Shakespeare studies. The results of their search for lively poems surprised them both. They ended up with a cornucopia of responses, with far more submissions about Ophelia than they ever thought possible.
Buy at Amazon Buy at Publisher

Reviews & Responses
An exuberant cornucopia of talent, wit, insight, and reverence.
—Peter Skinner, ForeWord Magazine
The collected poems are as diverse in form as recent poetry itself, covering the range from the traditional sonnet and ottava rima to free verse to the prose poem.… Although there appear many Ophelia poems in the collection, apparently many more were rejected by the editors, to keep the anthology from drowning in them.
—Mary LeDonne Cassidy, Magill's Literary Annual
In a Fine Frenzy follows on the heels of earlier anthologies recording literary responses to Shakespeare, but as editors David Starkey and Paul J. Willis point out in their introduction, there are few books that go beyond what they call "bardolatry," and most contain more prose than poetry. They also wanted a poetry anthology that was American and contemporary.… Here humor is the mode of engagement for most poets, even when the theme is dark.… Yet there are wholly serious poems too, tender, lyrical, grieving.
—Charlotte Innes, Poetry International
Many of the best poets resist the temptation of the bardish stance and manage to escape the fierce gravity of Shakespearean language.
This anthology is a labor of love by two poet-teachers struck by the power of Shakespeare to stir inheritors into ingenious comment, critique, and even subversive collaboration.