Paul J. Willis's poems have appeared in hundreds of publications, including Best American Poetry (1996), Poetry magazine,Wilderness, and Christian Century. Garrison Keillor has read his poetry on the Writer's Almanac, and five of his poems have been nominated for the Pushcart Prize.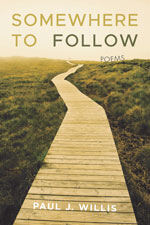 At times wistful, occasionally heartbreaking, often humorous, and always tender, Paul Willis's Somewhere to Follow is a love letter to the natural world with plenty of affectionate notes to humankind jotted in the margins. Reading these poems during a personally busy era has reminded me that while there's more to life than my daily routines and surroundings, everything I need can be found in those wondrous places. As Willis writes, 'no one knows where this trail goes,' but his voice is the someone to follow.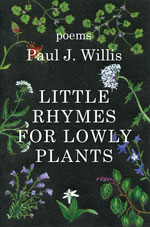 Paul Willis's many books of poems have featured exact and loving depictions and reflections of nature, observed in a life spent outdoors as much as a college teaching position would allow. That same world, generally in the Pacific Northwest, is the area covered in this book. So what keeps him from repeating himself? In earlier works, he never stopped hiking to new places, sometimes with new people, and always noticing new things. The difference here is in the new forms the poems take. His earlier non-metrical, rarely rhyming style is replaced by its opposites and, as the title indicates, by shorter, tighter, lighter, and more teasing tones, like nursery or playground rhymes. These amount to a cheery and refreshing new departure in his nature writing: "experimental" in a poetic world where that means a return to forms that Robert Herrick (cited here) would recognize and applaud as "poetic."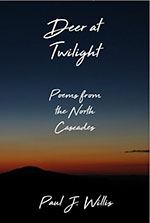 Full of longing and reality, these poems are observant, hopeful, footsore, amused. Paul Willis has written a book of unhurried walking—of seeing, self-forgetfulness, and entering into. How rich with personality the world he encounters! To read a handful or two of the smaller short-take poems is to remember how to be in the world as a companion being, how to laugh and wonder and be moved. In the larger poems, the ache of seeing is the ache of everything, a vastness hovering just beyond words that his words somehow touch. The reader might be surprised at feeling suddenly tender toward this teetering world. Even, amidst the trails and travails, rejoicing.
—David Oates, author of The Heron Place and Paradise Wild: Reimagining American Nature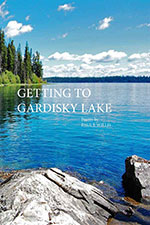 Even for somebody who has known and admired Paul Willis's work for many years (this reader, for instance), the poems in Getting to Gardisky Lake are remarkable in their amplitude and reach. Here, ranging between parking lots and high meadows, vaulting decades, naming names, are all the pleasures of Willis's nimble wit, fresh metaphors, and weather eye for the sacred in the commonplace. Without a whiff of didacticism, these satisfying poems offer—in fact are—ways and means to "balance upon what disappears." They invite us, finally, to step "off the map, into the world."
—Catherine Abbey Hodges, Author, Instead of Sadness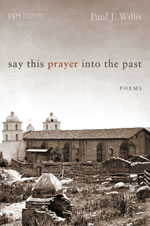 With reverence and wit, with delightful homage to the musical properties of language, Paul Willis gives us these poems of his family, his classroom, the wilderness terrains he loves. Lucky us. Whatever Willis touches on these pages quickens under his wry, wise gaze, becomes vividly "green with life." In both open and fixed forms, he follows his own dictate "… to make sure of the meanings / of words, then to invest them with holiness.…" His poems are a most welcome and needed gift—a balm he offers to "this beautiful, suffering world."
—Paulann Petersen, Oregon Poet Laureate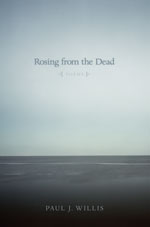 We journey with Willis, our expert guide, from one California wilderness to the next—like Wordsworth through his Lake District—with their stunning vistas, vegetation, rock formations, and rivers. Through his words, we glimpse the Sequoia National Park, John Muir Wilderness, Death Valley National Park, San Rafael Wilderness, Mojave Desert, Kings Canyon National Park, Joshua Tree National Park, and other regions with their singular wonders. We quickly realize that Willis does not simply write about these places; he has inhabited them, climbed them, breathed their atmospheres. He could not describe them so sharply otherwise.
—Shanna Powlus Wheeler, Christianity and Literature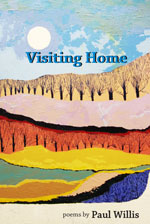 As someone who has spent a good deal of time in the company of ancient trees and mountain ranges, Willis writes poetry from that place of tension between the physical, touchable earth and the unknown, the mystery it pushes us toward.
—ImageUpdate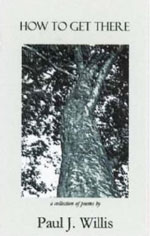 Many of the poems in Paul Willis's How to Get There are quite literally like letters: they address the reader directly, and are newsy narratives we are invited into so that we may discover that we are reading stories about ourselves as well. We might apply the term "accessible" to Willis's work, except that these simple narratives are often so subtle that we cannot too carefully, too closely analyze exactly what is going on in them. Rather, we must, as William Stafford claimed was true of poems, see them out of the corners of our eyes, like faint stars. Look at them directly, and they disappear.
—Carmine Sarracino, Prairie Schooner